How Home Automation Preserves Independence
As we age, we need and do things to help us stay independent. This includes making our homes safer and smarter. These very same things can help our loved ones feel better about our independence too.
Let There Be Light
As a starter, a few smart light switches in, and around, the home will both keep it bright for us as well as thwart off prowlers. These can be programmed to come on at certain times of the day or when motion is detected.
At night, these can be programmed to only turn on at say, 20% brightness, so it doesn't blind us going to the bathroom.
Be Comfortable
There are also smart thermostats that can be monitored remotely to ensure we or our loved ones are comfortable at home. The thermostat levels can be set/changed with a simple "tap" on the iPad or iPhone, as well as on the thermostat itself.
Large, easy buttons can be placed on the App to make programming changes a breeze.
Moving Around Is Good
Low cost motion sensors are a great way to see if loved ones are moving about. Better yet, they can be used to activate events such as lights turning on.
They can also activate some appliances or music. Setting them up is easy and then you have peace of mind knowing they are…in motion.
Forget Keys? No Problem
We are now in the age of keyless locks, so why not get a "smart" one? There are beautiful locks in all the standard colors to fit the theme of your door and home.
A simple 4-digit code can be supplied to various visitors and guests. They can be activated and disabled from the App – from anywhere.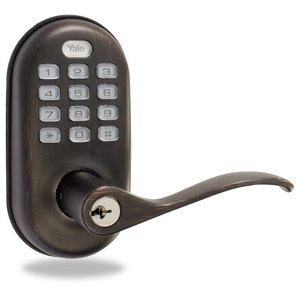 You can also receive text messages or e-mails when someone arrives.
Putting It All Together
The beauty in all this is that it can work together to make the home safe and smart.
Imagine this scenario: You go to bed and just want to make sure everything is closed down and safe for the night. There is a simple, large button next to your reading lamp on the table. You press it once…all the lights go off, the doors are locked and the thermostat is set for the night.
At the same time that happens a text message goes to a loved one saying "All safe for the night". They know you are well, safe and living independently.
Peace of mind for everyone.
---
---